I started my CRW afghan on tuesday. I finished round one tuesday evening since I had the day off and went on a crochet binge: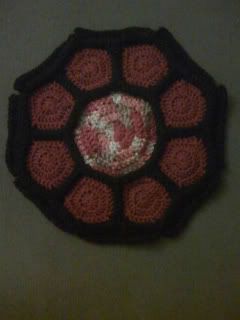 The colors are a bit off in the picture since I took it at night. I wanted to keep going that evening but I also wanted to record my progress for my craft blog so I didn't feel like waiting until morning. The red is less orange than on the picture.
Now I'm on round 7 of section two. Arwen keeps telling me I'm making a pie.